Arm Lift or Brachioplasty Surgery in Gurgaon
Brachioplasty or arm lift is a surgical procedure to reshape upper arms and connecting area of chest wall. It is commonly used to describe any surgical arm contouring. It is often used to address issues such as excessive loose skin or excessive fat in the arms, when it does not respond well to diet and exercise. Arm Lift Surgery is a common procedure for patients, who have experienced massive weight loss. You can get best Brachioplasty Surgery in Gurgaon at Kalosa Clinic. It has well experienced Arm Lift Surgeon in Gurgaon, Delhi NCR.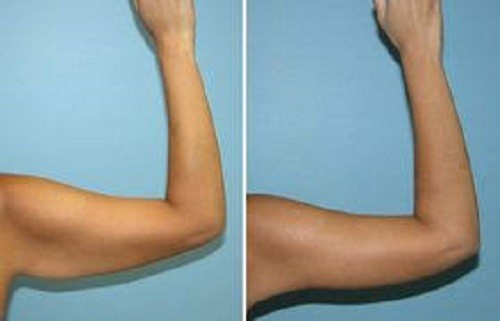 Liposuction of the arms
The least-invasive manner to contour the upper arms is to simply remove extra fat via liposuction. However, traditional deep liposuction often leaves sagging and wrinkled skin. An alternative to this is Circumferential para-Axillary Superficial Tumescent (CAST) liposuction, which maximizes the skin retraction.
Hidden/Minimal incision brachioplasty
Under the right conditions such as adequate skin elasticity and minimal excess skin, the surgical incision for the brachioplasty can be placed under the arm. This allows for easy concealment of the scar. Minimal incision brachioplasty surgery in Gurgaon includes lipoplasty of the upper arm, wide-axillary and upper-arm skin excision, and dermal suspension of the upper-arm skin to the axillary fascia.
The typical brachioplasty involves removing excessive loose skin via surgical excision, leaving a significant scar along the bottom of the upper arms.
Post op period is usually uneventful. Pressure garments are advised.