Earlobe Correction/Repair in Gurgaon
Today people are very much conscious about their facial structures, one of which is earlobe repair. So, they go for Earlobe Repair Surgery in Gurgaon and other metro cities in the past few years. It's an effective reconstructive procedure that basically fixes the torn or stretched earlobe appearance to look normal.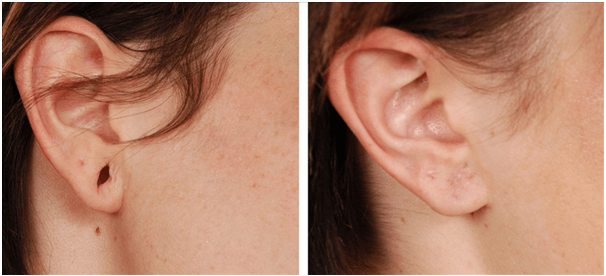 If you want the best Earlobe correction surgery in Gurgaon, then reach at Kalosa Clinic. We ensure the desired and best carload correction procedure after proper examination and the use of local anesthesia with an optional sedative. During earlobe or split earlobe surgical treatment, local anesthesia and a vasoconstrictor are used and also known as lobuloplasty.
Who are the Candidates for Earlobe Treatment?
If you are looking for best earlobe repair and reconstructive treatment in Gurgaon, then first is to know if you are the right candidate. The best candidates to go under ear hole or earlobe repair procedure are:
Having a slightly enlarged piercing that cannot hold a standard stud or earring.
Torn or split earlobe that is caused because of ripped-out earrings.
Stretched earlobe due to gauge plug and wearing of tunnel jewelery.
Small or almost appearing earlobe imperfection.
Types of Earlobe Correction/Repair
Earlobe correction and repair is classified into two types such as:
This is the most commonly found earlobe issue found in elderly women with a habit of wearing heavy studs and earrings for years. It is bilateral.
This earlobe repair is unilateral and is caused by the sudden pulling of an earring or other trauma.
Earlobe Repair Surgery Procedure in Gurgaon
Earlobe repair is done within the process by an expert cosmetic surgeon specialized in labioplasty treatment. In this, firstly, your surgeon will examine you thoroughly to determine if you are the right candidate for Ear Hole Repair  Surgery in Gurgaon.
During the evaluation, your medical history will also be a follow-up need that will simultaneously go with a physical examination. Your current health conditions or under medications will be clearly discussed priorly and carefully.
In fact, patients' desired goals, expectations etc., will also be considered for achievement after determining the earlobe size or condition. It's an outpatient surgical treatment operated under local anesthesia and a vasoconstrictor.
Lobuloplasty is usually a simple, quick and effective cosmetic procedure that takes around 45 minutes to an hour. However, the earlobe repair and surgical timing depend on the condition and concern needed.
Earlobe Surgery Recovery and Precautions
Unlike the earlobe surgery procedure, its recovery is minimal and quick. Next, after local anesthesia wears off, a mild throbbing sensation is normal. However, that will be cured easily with recommended pain relievers medication by your earlobe surgeon. In this quick cosmetic split earlobe repair treatment, you won't need any special dressing afterwards and use non-absorbable sutures for minimal scarring.
How to Find the Best Earlobe Surgeon in Gurgaon?
Next comes the right kind of surgeon or cosmetic clinic if you have all decided on Earlobe Surgery in Gurgaon. Below are the points to consider important to find for the expert split earlobe treatment surgeon and get desired results:
Look for surgeon experience and certification.
Ensure the cosmetic clinic is licensed and well-equipped to perform such advanced cosmetic surgical treatments.
Ensure hospital or clinic facilities and management availability.
Have proper consultancy and discussion about earlobe repair and correction procedures.
Do compare before and after images of previous patients to check the success rate.
Read for online feedback and reviews by previous patients.
Don't hesitate to clear your doubts about earlobe surgery with your surgeon.
Why Choose Us for Earlobe Repair in Gurgaon?
End the hassle here to look for the best Split Earlobe Treatment/Surgery in Gurgaon with a trustable Kalosa Clinic. The surgeon is experienced and certified to perform such advanced cosmetic surgical treatments, including proper consultancy and guidance. Patients looking for desired earlobe repair results can reach us without hesitation.
We assure to keep candidates' expectations and confidentiality on priority. Our surgeon and staff management will help patients to feel comfortable and confident before and after the earlobe surgical procedure. Talk to our certified surgeon Dr. Ashish Khare about all earlobe treatment doubts and queries.
Earlobe Repair Surgery Cost in Gurgaon
Kalosa Cosmetics Clinic is a reliable and reputed cosmetic clinic offering earlobe or Ear Hole Repair Surgery in Gurgaon. We ensure to give candidates cost-efficient and effective earlobe cosmetic treatment with the proper examination, consultancy and guidance. We ensure to provide you with all discursive aspects related to earlobe surgery cost, clinical process and follow-check-ups.
Talk to our expert surgeon about Earlobe Repair Cost in Gurgaon to make sure what possible measures they can help you with. However, factors like surgeon experience, type of earlobe surgery, local anaesthesia, clinical care, facilities, location of clinic/hospital, medications, tests and other fee expenses also help decide the earlobe surgery cost in Gurgaon.