When we gain fat, it does not distribute evenly all over the body. The abdomen is the most common area to gain weight followed by thighs and the back . For females, the most difficult  area to shed fat is from the upper back even after sufficient exercising. these bra folds become apparent when females hook up their bra. if one is self conscious about their body in body hugging clothes or afraid to slip into beach body but finding it difficult to fix , Vaser  Liposuction is the solution for sure for this problem .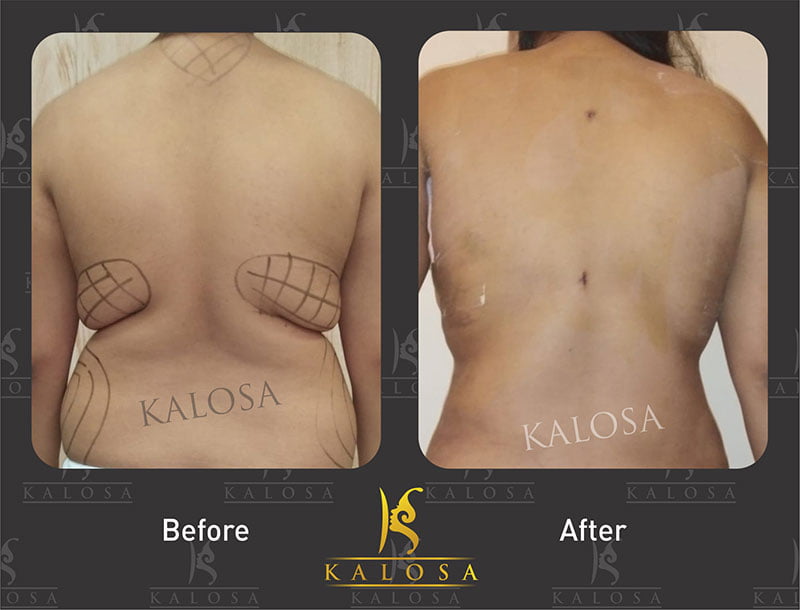 WHAT IS VASER LIPOSUCTION ?
Vaser liposuction is a body contouring procedure for ultimate control of your bodyshape. It is a minimally invasive procedure, and popular alternative to the traditional liposuction.
If bra fold liposuction is planned alone then it can be planned under local anesthesia or sedation .
The treatment involves injecting a tumescent fluid to separate fat from the surrounding tissues which minimizes disruption as well as post operative swelling and bruising . After this, a VASER  cannula is inserted that emits ultrasound energy which shake and burst down fat cells which are then gently suctioned out . Vaser is a targeted procedure, it reduces downtime and improves result , hence toning the back and giving the desired shape.
Why choose KALOSA for back roll Vaser Liposuction ?
Dr Ashish Khare is a master surgeon having done more than 1000+ vaser liposuctions
Excellent past results
Latest technology being used
We have performed Vaser Lipo procedures on largest number of patients in India . All our patients receive full guidance and personal attention in the pre or post operative period .
Flexible payment modes available.
Vaser liposuction of the Back Roll is a lunch time and a minimally invasive procedure.
It can be performed under local or tumescent anesthesia. If performed alone, general anesthesia is not required for the procedure .
Hospital stay is not required. It is  an opd/short daycare procedure .
It has minimal down time. One can get back to work quickly .
Post operative pressure garments are advised to be worn for 6-8 weeks which helps in better skin retraction .
There is minimal disruption of your daily life style and activities
There are minimal scars and that too are hidden .