Laser Hair Removal in Gurgaon
Unwanted hair growth on face, body, back, hands, legs or bikini line is always annoying. Each female wants to get rid of them and even regular users of various methods like waxing, threading, razor, trimmer etc. are quite fed up. Remember, how helpless you feel when due to non shaving of hairs you are not able to wear favorite dress. There is demand for body hair removal, facial or limb hair removal but something which is permanent. But these days even males do not want any body hairs and are in search of methods that would help them flaunt their bare chest look. Some are also interested to reshape their beard in a unique way. The trauma of going with repeated waxing is pain, chances of infection or compromise with adequate hygiene in parlors. Re-growth with trimmer or epilator is very fast, hence not preferred. The technique which has gained popularity over the years is the laser hair removal. This not only removes the hairs but with repeated sittings, causes hairs to shrink and fall off.
If you are taking laser hair removal service in Gurgaon from KALOSA COSMETIC CLINIC, you can be reassured about the quality care. the credentials and experience of our plastic surgeon, Dr. Ashish Khare would help you in achieving best results. You are additionally assessed for any hormonal imbalance, which is causing hirsutism by Dr. Deepti Asthana, who is the best gynecologist in Gurugram. Other clinics will not get this evaluated, hence with time there is regrowth of hair and results are poor.
Another advantage of coming to KALOSA COSMETIC CLINIC is we do not use china made cheap replica of hair removal machines. These replica machines are not so effective and may cause burns to the skin. Hence, beware and do not fall in trap with other clinics offering cheap solution to your problem. Always invest in quality procedures, after all it is your own body. We use US FDA approved machines which are safe to use , do not affect surrounding skin and give quality results.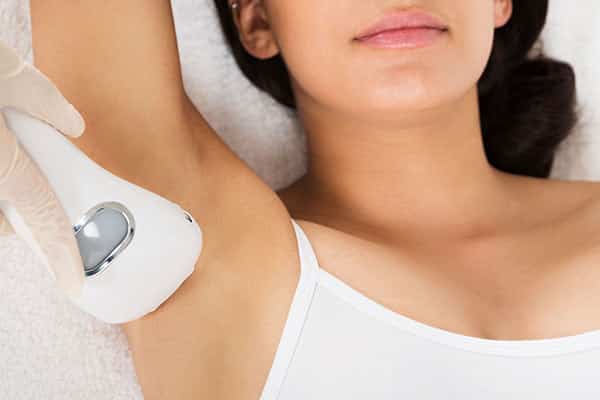 Let us see some FAQs about laser hair removal:
What is the principle behind the laser hair removal?
Laser machine concentrates light which penetrates the skin and reaches hair follicles. it is converted to heat which is absorbed by pigment in the hair follicles and destroys the bulb. This leads to gradual fall off of the hair.
Any pre requisite for the treatment required?
Yes, you would be required to prior shave your hairs within 24 hours of your session.
Waxing or plucking to be avoided 6 weeks prior to the treatment.
Do not use any makeup on the day of treatment.
Also, sun exposure should be avoided pre and post treatment session.
Is the process painful?
You may feel a snap of pain but usually numbing or cooling agents are used which lessen it. Machines have also come which cool the skin immediately so that there are no adverse effects.
How many sittings are generally required to complete the process?
It usually depends on quality and quantity of hair growth. since the hairs are in different stages of their growth, it requires multiple sittings, usually 6 to 8 sessions may be required for permanent hair loss.
Would meeting a gynecologists help and make situation better?
This is another important issue, which is often ignored. The root cause of hirsutism or excessive hair growth should always be found out so that results are better. Hence, meeting our gynecologists, Dr. Deepti Asthana is always advisable.
Any precautions to take care post sessions?
Yes, sun exposure and too much of heat to be avoided post treatment sessions.
Also conditions leading to sweating like gym etc. to be avoided.
Also avoid bleaching or waxing post treatment.
For more Information about laser hair removal in gurgaon, Book an online consultation with our experts today.