Non Surgical Nose Correction in Gurgaon
Rhinoplasty, also called as a nose job, is being performed as a surgical procedure since ages. It is used to correct the shape, contour, deviation, hump, depression, alar flaring and many more deformities. But with the recent advances in aesthetic medicine, these deformities can now be temporary corrected by dermal fillers through an OPD based procedure.The evolution of dermal fillers has created a new era of non surgical nose job, also commonly called as Liquid Rhinoplasty or 15 minutes nose job.
Kalosa is the best cosmetic and aesthetic clinic for Non Surgical Nose Correction in Gurgaon, Delhi NCR where these procedures are being done on regular basis. Dr Ashish Khare is an experienced plastic surgeon who assesses your face for proportion and symmetry and gives you excellent result. He has experience of doing more than 2000+ aesthetic cases and has special interest for liquid rhinoplasty.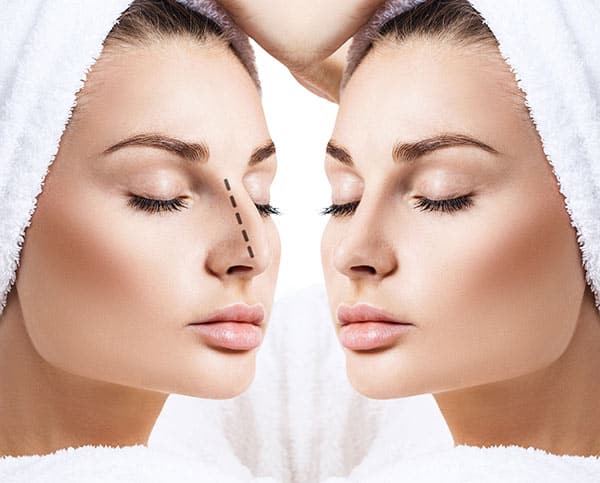 Let us see some FAQS about the non surgical nose correction.
What is Liquid Rhinoplasty?
Liquid rhinoplasty is a nonsurgical alternative to the traditional rhinoplasty. It is used to correct nasal deformities like dorsal hump, drooping of the nasal tip and asymmetries. A surgeon injects filler into the patient's nose to improve the contour and reshape it.
What are the common fillers used for this purpose?
Hyaluronic acid is the most common filler used for this purpose. Juvederm and Restylane are the most common hyaluronic acid brands .
What are the Benefits of Liquid Rhinoplasty?
The various BENEFITS are –
The procedure takes only around half an hour and cannot compared to the surgery which usually takes four to five hours .
Infact, it can be done in your office lunch break.
Results can be appreciated immediately with minimal downtime. One can have the procedure done and return to work the same day .
Since the patient is awake during the procedure, the patient can appreciate the change in results immediately.
Patient satisfaction rates are better.
What are the drawbacks of liquid rhinoplasty?
The various drawbacks are –
Results are not permanent and will fade after sometime.
Certain arteries at the end of the nose are connected to the retina of eyes. Vascular complications can cause blindness. These are more if you get your nose job done by untrained people.
Who are bad candidates for liquid rhinoplasty?
Following candidates should avoid non surgical rhinoplasty –
Patients with over realistic expectations
Patients with some nasal obstruction or nasal deviation leading to breathing difficulties.
Patients wearing full time glasses over nose.