Emsella treatment is the latest addition to the technologies introduced by the west for the maintenance of intimate health and KALOSA clinic feels proud to have introduced this to the people of DELHI/NCR for the first time in 2020. Emsella is an US FDA approved technology for treatment of both female and male urine incontinence.
EMSELLA FOR FEMALES
with childbirth, aging and menopause, there is gradual weakness of pelvic floor which leads to involuntary urine leakage. if not corrected on time, this may lead to severe physical exhaustion, mental stress, sexual discomfort and financial burden on your pockets.
Condition is often embarassing and restricts all the social gatherings of that person. there is self cocooning inside the house due to fear of inability to find a restroom on going out. Bad smell can be troublesome and constant leakage may lead to frequent urinary tract infections.
There is loss of intimacy also between the partners. all this puts a female in self depression, especially after post childbirth.
Constant use of adult diaper may become heavy foor your pockets as they are far more costly than the newborn diapers.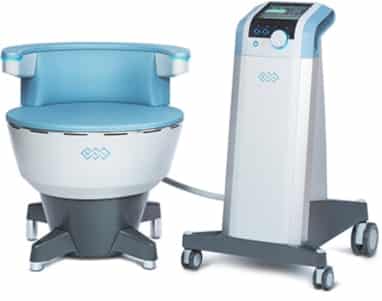 EMSELLA FOR MALES
Intimacy is an important part of our sexual desires and both the partners are equal partner in this act.major role is played by the male partner as he needs to sustain the act. Erectile dysfunction (ED) is one of the major issues with the performance and it may increase with age. This decreases sexual desire with time and may result in depression. There are multiple treatment options available in market but nothing really is helpful.
Emsella is the now the trustworthy solution to this solution which is backed by medical studies. In the west, this is one of the popular treatments for ED now.
Also males undergoing prostactectomy surgery for enlarged prostate glands, have some component of remnant urine leakage always and this is very frustating.
EMSELLA is US FDA approved for use in such patients and works wonder for them.
Principle – It works on the principle of HIFEM and sends electromagnetic energy to the pelvic floor. This results in kegels vibrations to the muscles, of the order of 11,000 kegels in 30 min.they also improve neuromuscular coordination and help in tightening of pelvic floor muscles which is responsible for urine leakage and many other manifestations.
BEST CANDIDATE FOR EMSELLA
no metallic implant in body , especially around pelvic girdle
you have stress urinary incontinence, or urge urinary incontinence or mixed
you have erectile dysfunction
you have urine leakage post prostatectomy
you are a delivered mom 6 months post childbirth
HOW ARE SESSIONS PLANNED
30 min sessions are given biweekly , usually 6 sessions are required.
IS THE FACILITY COVID SAFE?
Absolutely. All safety requirements for covid are being followed.
Prior appointments are mandatory so that there is no crowding of patients in the clinic. Sufficient time gap is provided between 2 patients.
Emsella room is in isolation , so that except for patient, nobody else is there.
Emsella room is being sanitized after every patients session.