Best Cosmetic and Plastic Surgeon in Gurgaon, Delhi NCR
The Kalosa Clinic has been founded by Dr. Ashish Khare, who is the best cosmetic and plastic surgeon in Gurgaon, Delhi NCR.
He has done his MBBS from University College of Medical Sciences, New Delhi. After that, he has obtained the Masters degree in General Surgery from Lady Hardinge Medical College, New Delhi. After completion of M.S., he pursued 3 years multispecialty training in Aesthetic, Plastic and Reconstructive Surgery from prestigious S.M.S. Medical College, Jaipur.
Since then, he has visited various highly reputed hospitals and institutions to sharpen his skills. He has worked as a senior fellow in plastic surgery department of Medanta Hospital, the Medicity, Gurgaon and performed numerous reconstructive microsurgery and cosmetic surgery cases.
He has done specialized training and fellowship in Aesthetic Medicine (FAM) from Institute of Laser and Aesthetic Medicine (Recognized and affiliated to University of Greifswald's, Germany). He has worked as a consultant in Enhance Cosmetic Clinic, where he has performed numerous cosmetic and plastic surgery like hair transplant, gynecomastia, rhinoplasty, facelift, breast augmentation, breast reduction, liposuction, abdominoplasty, blepharoplasty, scar revisions etc.
At present, Dr. Khare is a visiting plastic surgeon consultant at various renowned hospitals in Gurgaon, Delhi NCR.
He is also the proud owner of KALOSA HAIR TRANSPLANT AND COSMETIC CLINIC, which is the best cosmetic clinic in Gurgaon, Delhi NCR. He believes in redefining and reshaping your ugliest features with the best natural results through his vast knowledge of plastic and reconstructive surgery.
He has the vast experience of performing more than 3000+ liposuction surgeries across pan India till now. He does liposuctions using revolutionary technology of VASER and redefines your body curves using his sculpting knowledge.  He is also the master craftsman in treating gynecomastia surgeries with perfection.
KALOSA clinic is also one of the best cosmetic and plastic surgery clinics in Gurgaon to do the hair transplant surgeries with best results. He has till now performed more than 2000 successful hair transplants using FUE AND FUT technology on domestic as well as international patients. He is trained from  INTERNATIONAL SOCIETY OF HAIR RESTORATION SURGEONS (ISHRS) and does hair transplants with highest international standards and ethics. Clinic boosts of being the best hair tansplant clinic in Gurgaon being run by a trained plastic surgeon.
Aesthetic surgeries and procedures are also one of the favourites of Dr Ashish Khare and he feels immense pleasure in giving you back your confidence by reshaping and rejuvenating your body. He has experience of performing more than 2000 such cases across pan India.
KALOSA clinic also boosts of being the first proud owner of BTL EMSELLA  revolutionary chair in Delhi which treats urinary leakage issues as well as male erectile dysfunction. this is an FDA approved technology using HIFEM and has done wonders for its patients across the world.
Last but not the least, in this  world of numerous unethical professionals who are not only  unqualified but also inexperienced to even touch your body but who pose as cosmetic doctors and give lucrative discounts to attract you, you must understand this irony and trust a real plastic surgeon based clinic like ours.  You will definitely feel satisfied meeting  a qualified, experienced, trustworthy and diligent plastic surgeon  Dr Ashish Khare, once you walk into KALOSA CLINIC. It has definitely become an epitome of excellence, quality, medical ethics and transparency among the patients over all these years.
His Work Ethics
Dr Ashish Khare has eyes of a hawk, heart of a lion and hands of a lady, that is what makes him a great surgeon.But there are some additional work ethics which he follows, that make him an extra ordinary plastic surgeon as well.No wonder he is referred to as the best cosmetic and plastic surgeon in Gurgaon, Delhi NCR.
1. Incorporating science with art-
We are fortunate to be born in an era where science keeps evolving, so does technologies and methodologies used for the treatment. Dr Khare keeps himself updated with the latest developments in this field and also his skills make him an appropriate sculpture,  achieving best results for you and providing best possible care.He carves your body in best possible way and even subtle changes made change your personality forever by boosting up the confidence.
2. Providing QUALITY services –
These days, there is mushrooming of cosmetic centers, some not even managed by adequately educated and experienced doctors. Patients are fooled by giving lucrative discounts. But Dr Khare believes only adequate knowledge, commitment to excellence and true understanding of aesthetics can help in spreading true quality plastic surgery which gives best result to the patient.He does all his surgeries himself and has changed many lives with his true dedication. He has stood out as the best plastic surgeon of his times.
3. Individualizing each and every patient –
Each patient is different, so is their presenting complaints. Even if treatment required is same, but that treatment also needs to be tailor made. That is what Dr Khare believes in, hence he likes to personally meet up all the patients himself before enrolling them for surgery. He treats every patient with the same compassion and advises the best treatment suitable for them.His approach has helped him in changing lives of many and his patients trust him as best cosmetic surgeon in Delhi NCR.
4. Transparency in treatment –
Dr Khare beleives in explaining the whole process to the patient including the procedure steps, expected complications and expected results. Accurate information is shared prior to the patient always. This helps in making informed decision making by the patient also. Sometimes final results may take time and patience is required for the same.If patients are prior informed, waiting becomes easy.
5. Confidentiality –
Cosmetic procedures are usually opted to improve your self esteem and confidence. We understand that sometimes you would not like this secret to be revealed to the whole world. We respect this, and maintain full confidentiality, whatsoever may be the procedure done by us. This helps in gaining full trust of the patient and provides emotional security.
6. Patient Support –
Patients are provided thorough pre and post operative support . They can contact us in case of even minutest of their doubts. Team feels responsible towards each and every patient and handles them with love and care. Kalosa Cosmetics is one of the best cosmetic clinic in Gurgaon, Delhi NCR.
7. Patient Welfare –
Patients are assessed thoroughly pre operatvely and any high risk conditions ruled out. In case of any alerting conditions, adequate instructions are given and required investigations done. All safety measures are taken care operatively so that no harm ever occurs to any patient.
8. Honesty –
Dr Khare follows strict medical ethics and is always true to his patients. He does not believe in buying awards to show his greatness. His work speaks for his brand and patients trust him for his skills, experience and excellent past results.Also, he would be honest enough to guide you if your expectations are over realistic.
9. Patient Satisfaction –
We, at KALOSA, understand that expectations from a cosmetic procedure often have emotional connect. Some patients may feel depressed if their results are not as expected. You should understand that no two results can be same for different patients as tissue healing for everybody is different. In case you are completely unsatisfied with your surgery and if re-surgery is possible, Dr. Khare does it without taking his share of fee. After all, ultimate patient satisfaction only makes a  surgeon happy.
Dr. Ashish Khare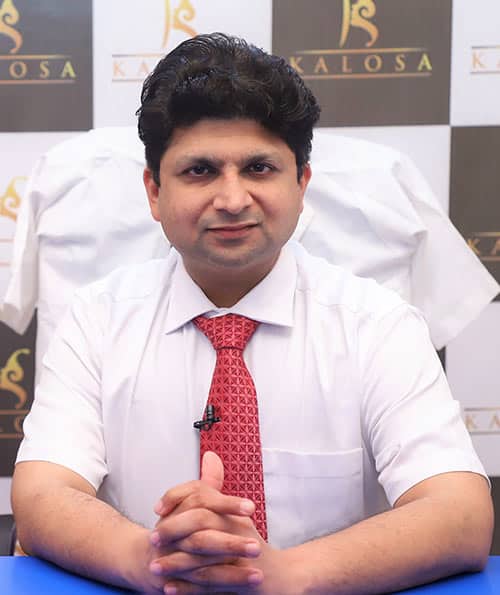 Credentials
Medical Degrees
MBBS – University College of Medical Sciences, New Delhi
MS (general surgery)- Lady Hardinge Medical College, New Delhi
Mch (superspecialty in plastic surgery)- Sawai Man Singh Medical College, Jaipur
Fellowships
fellowship – Reconstructive microsurgery, Medanta Medicity
fellowship – Aesthetic medicine, ILAMED
Memberships
His Team
Dr Deepti Asthana is a trained obstetrician and gynecologist and has over 14 years of experience in this field. She is also an internationally trained cosmetic gynae surgeon  from American Aesthetic Association and has passion for cosmetic gynae work.
Both Dr Deepti and Dr Ashish khare together make a great team as they are masters in their own field and cosmetic gynae procedures are handled beautifully by both together. Giving quality treatment with best results makes  KALOSA stand out as the best aesthetic center in the city.
Dr. Deepti Asthana