Ear Reconstruction, Ear Repair Surgery in Gurgaon
Ear congenital anomalies are quite common, so is trauma  to the ear as ear stands out from the face. talking about congenital anomalies, there may be sometimes partial or complete absence of the cartilage, microtia or anotia. Sometimes ear is lost due to cancer surgery or misshapen.
With the development of science and evolving plastic surgery, there are now methods to reconstruct the ear cartilage or soft tissue and give a definitive shape to the ear. Dr. Ashish Khare has enormous experience in ear reconstructive microsurgery and his skills make him the best plastic surgeon for Ear Reconstruction, Ear Repair Surgery in Gurgaon, Delhi NCR.
Credentialed expertise, adequate knowledge, skill and loup magnification enhance the results and new ear is crafted in a beautiful manner. This may require staged surgery but outcomes are stupendous.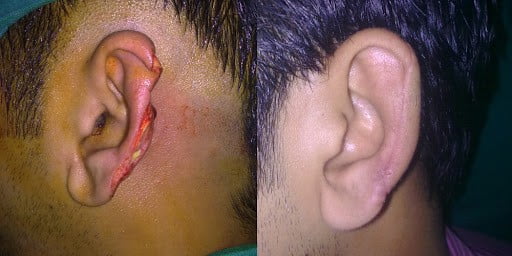 Pre Procedure 
Assessment
Dr. Khare evaluates each patient meticulously. Missing structures are identified and ear repair process explained to the patient. Many times, autologous grafts are taken from one's body itself and procedure is staged. Best time of surgery for congenital cases is usually after 10 -12 years so that rib cage is developed adequately.
All possible outcomes are explained to the patient.
Once decision is take to go forward for the surgery, patient is explained preoperative instructions and required investigations are ordered. Smoking and blood thinning drugs need to be stopped prior to the surgery.
Ear Reconstruction Surgery Steps:
This is usually a staged surgery if autologous grafts are used. If prothesis are used, then it can be done in one stage only.
incisions are put at places so that they are camouflaged in ear's natural anatomy and not visible after natural healing.
In first stage, rib cartilage is harvested and ear framework is created.
usually done after 6 months, and retro auricular sulcus is created. Later on, grafting is done and blood supply restored.
Post Ear Repair Surgery
You would be required to take adequate post operative precautions as advised by the doctor. Rest would be advised according to the amount of reconstruction done.
Complications are minimal if autologous grafts from one's own body are used.
Once ear reconstruction is complete, hearing can be restored by hearing aids if that is required.